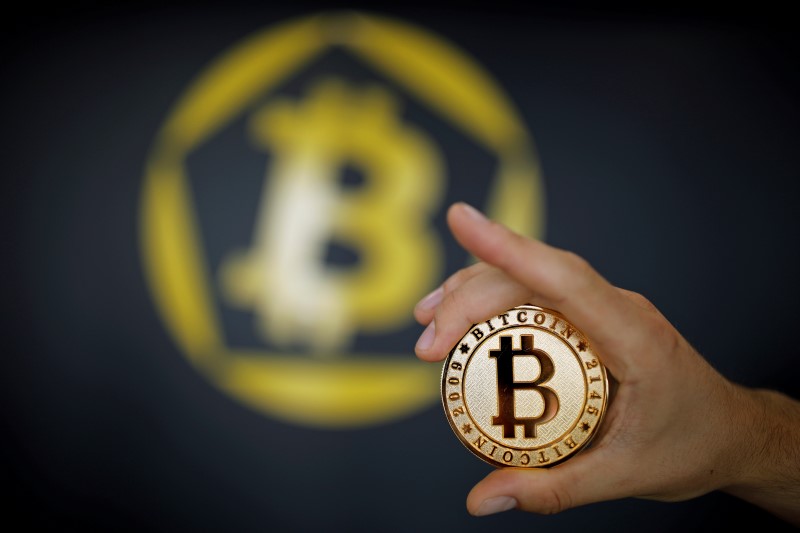 © Reuters.
Investing.com – Bitcoin prices fell on Tuesday a day after the popular digital currency rose to a five-week peak as investors mulled over an uptick in global regulatory efforts to curb fundraising via initial coin offerings.
On the U.S.-based Bitfinex exchange, bitcoin fell to $4,296, down $104, or 2.37%. Bitcoin is more than 20% below its recent peak of $4,969 with a market cap of about $70 billion.
Goldman Sachs (NYSE:GS) CEO Lloyd Blankfein was the latest Wall Street leaders to comment on Bitcoin but unlike his counterparts at JP Morgan and Morgan Stanley (NYSE:MS), he opted to keep his view on the prospect of cryptocurrency closely guarded.
Blankfein's comments come a day after investors grew nervous about increased global regulatory activity in the cryptocurrency space amid reports that the Swiss financial regulatory board, Financial Market Supervisory Authority (FINMA) stepped up investigations into initial coin offerings (ICOs) in Switzerland.
An initial coin offering is a means of fundraising via the use of cryptocurrencies in which a company attracts investors by releasing its own digital currency which can appreciate in value if the business is successful.
The move comes more than a month after the People's Bank of China (PboC) sent shockwaves through the cryptocurrency market, imposing a ban on individuals and businesses from raising funds through initial coin offerings (ICOs).
A few weeks after Chinese authorities banned ICOs, investors had to contend with further regulatory action, as China issued a nationwide ban on cryptocurrency exchanges, sparking a selloff in Bitcoin.
Other cryptocurrencies followed Bitcoin's move lower, as Bitcoin Cash fell 4.97%, to $399, while Ethereum, the second largest cryptocurrencies by market cap, lost 2.04% to $290.6.
sponsoredArticle = 'div-gpt-ad-1466339494851-0';